JobKeeper has ended. Is there an economic hangover?
Results from CreditorWatch's first Business Risk Review since the end of the JobKeeper show Australian businesses are in good shape, although it will be some time before it's possible to get a true understanding of how the economy is faring.
Read on to learn how our latest data affects the industry you trade in, and join CEO Patrick Coghlan and Chief Economist Harley Dale in our exclusive webinar, including a Federal Budget analysis, on Wednesday 12 May 2021. Save your seat now!
Read the media release Register for webinar
Data snapshot – comparison to March 2021
Credit enquiries: decreased by 28.5%
Court cases: decreased by 29.1%
Payment defaults: decreased by 19.7%
External administrations: decreased by 26%
17 out of 19 industry groups reported an increase in the time it took to pay their bills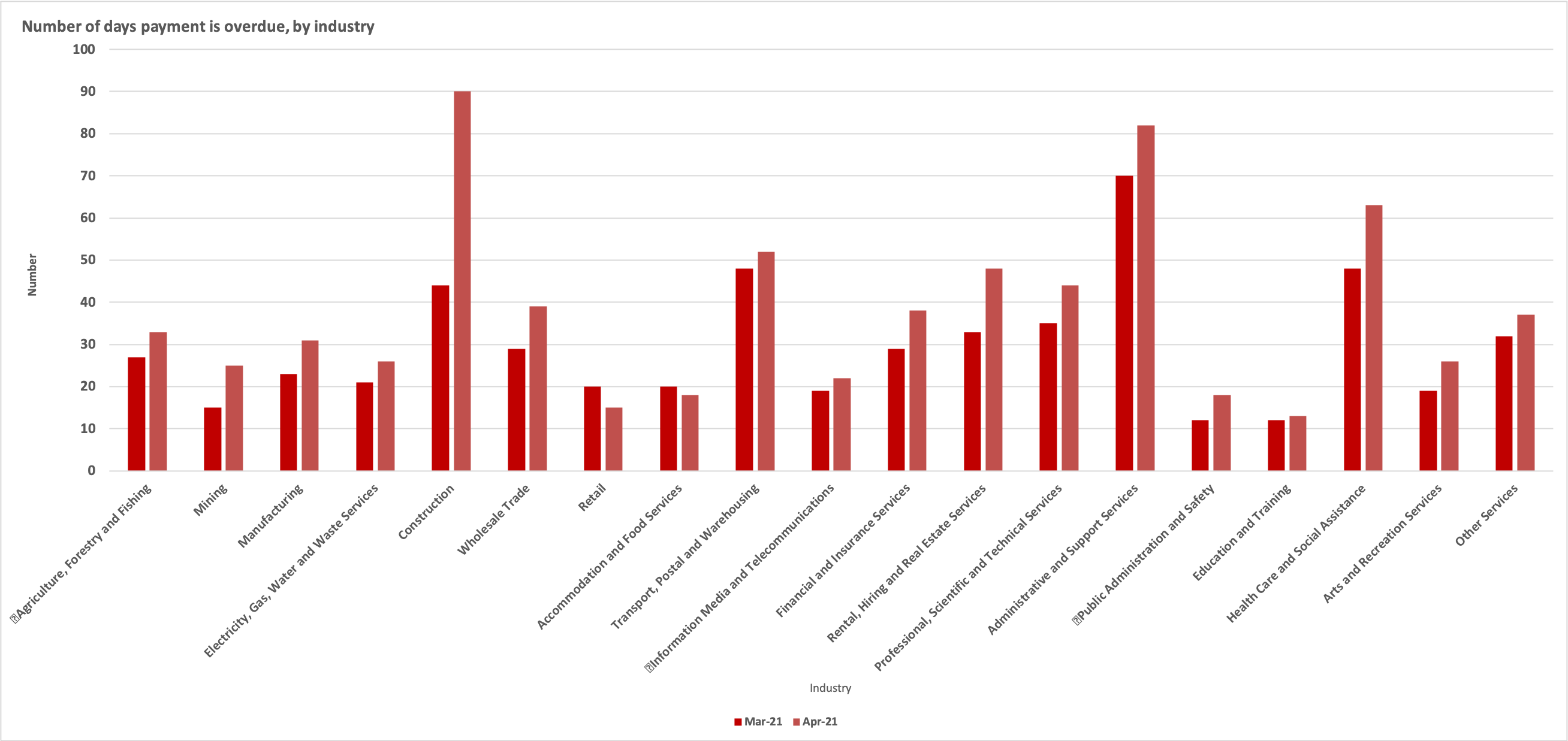 Click the image above to expand
"The good news is there is still a healthy pipeline of credit enquiries. Defaults are below where they were a year ago at the peak of Australia's pandemic crisis and external administrations are trending down again," said Patrick Coghlan, CEO of CreditorWatch.
"It is concerning, however, that twice as many industries reported a deterioration in payment times versus last month. This is to be expected following the withdrawal of JobKeeper – the federal government's main economic stimulus measure.
But we won't really be able to get a true read on economic conditions until the June and September quarters, when businesses will have had time to stand on their own feet for a period without government support," he said.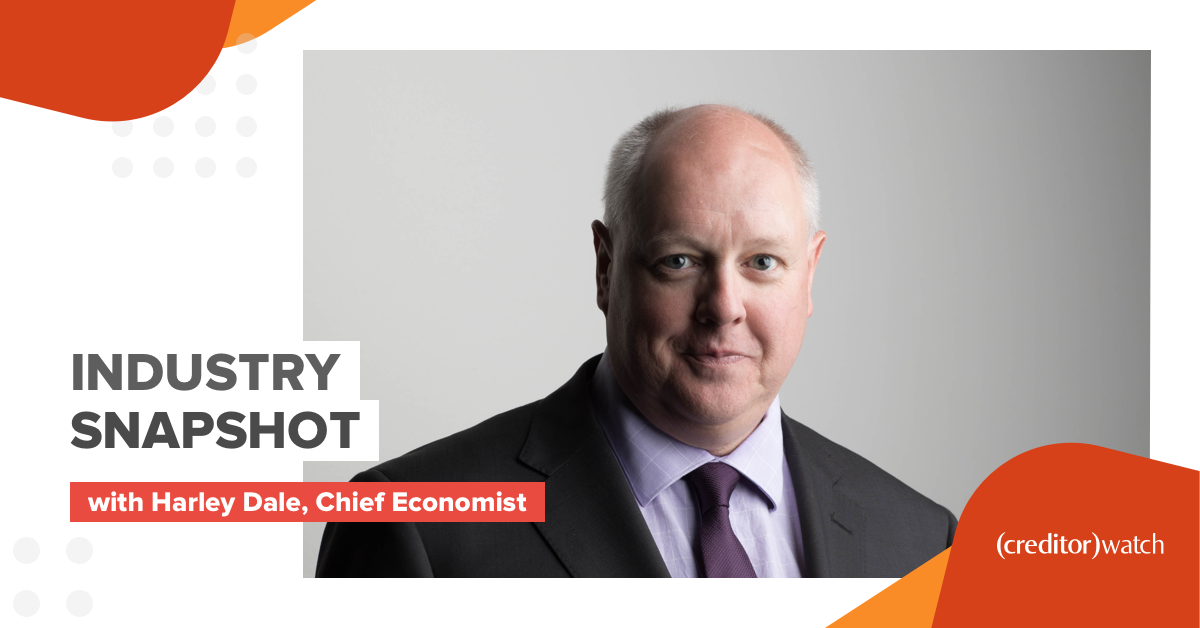 Harley Dale, CreditorWatch Chief Economist says:
The first post JobKeeper update for the CreditorWatch Business Risk Review (BRR) was never going to be one way traffic and that has turned out to be the case. JobKeeper was tremendously important in ensuring Australia escaped a deeper and longer recession that we endured, but it (necessarily) leaves most of our businesses back in the world of fending for themselves. The dynamics are such that businesses and industries are going to experience varying economic and business performances, prospects and consequently the risk of possibly not being able to survive.
In this regard the April BRR reveals varying results, but some are very encouraging updates. This is an important result which will be of comfort to the Commonwealth Treasury and the Reserve Bank of Australia (RBA). The April BRR results are the first to confirm what we all have expected for some time – Australian businesses have not fallen over a cliff in the post JobKeeper world (the program ended on March 28th). CreditorWatch results for April 2021 highlight positive outcomes for: credit enquiries; defaults; and external administrations.
It was never going to be all sunshine and lollypops – there are simply too many different dynamics to the experiences within and across industries and between geographical locations.
A key positive is the number of credit enquiries which continues to look very promising. CreditorWatch identified a couple of months ago the likelihood of an ongoing improvement in the profile for credit enquiries. In the three months to April 2021 enquiries increased by thirty-nine per cent and were up by forty-four per cent compared to the three months to April 2020.
The disappointing but hardly surprising news is that the April BRR reveals a deterioration in the profile for the number of days payments are overdue. Following the conclusion of the JobKeeper program, this outcome was almost inevitable.
There was a sharp increase in delayed payment times in April 2021 compared to April last year for: Construction; Administrative and Support Services; and Healthcare and Social Assistance.
It is not like it is all doom and gloom. Even the delayed payments data reveals two stand-out sectors in terms of improved payment times: Retail; and Accommodation and Food Services. Proof that the lifting of COVID restrictions does have a positive impact (and needs to be sustained without knee-jerk reactions). CBD hotel occupancy rates is a prominent example. They are well down by historical standards, harming CBD business activity, but rates are nowhere near as low as last year and through most of the March 2021 quarter.
CreditorWatch analysis also highlights several sectors who look to be turning the corner in a sustainable manner:-
Manufacturing
Electricity, Gas and Water
Public Administration and Safety
Stimulus in the upcoming federal budget will likely provide more positive stories, which means the BRR updates for the September 2021 quarter will provide crucial insight into how the recovery in the Australian economy is tracking.
The good news does seem to outweigh the bad in April 2021. The fact that CreditorWatch can reach this conclusion improves the prospects that as we move through the June and September 2021 quarters, evidence will become increasingly compelling that while there will be significant fall-out in the business community, we will avoid the commercial carnage broadly anticipated until late in 2020.
Speaking of good news, a key BRR metric – the number of external administrations – fell in April, bucking a short-term upward trend in the March 2021 quarter. This is an encouraging result. On an annual basis the number of external administrations has now been lower for fourteen consecutive months (down by eighteen per cent in April). Over the three months to April 2021 administrations were down by 34 per cent compared to the same period in 2020.
The average number of external administrations is 28 per cent lower in the first four months of 2021 compared to the same four-month period last year. Queensland, Western Australia, and New South Wales are leading the charge, but improvements are relatively broad-based. We are not there yet though – what happens in May and June and beyond will be especially important. CreditorWatch continues to expect that results for the June and September 2021 quarters will provide the clearest, initial read on how the Australian business community is faring in the latest stanza of Australia's COVID-19 recovery.
The number of defaults revealed in the CreditorWatch April 2021 BRR is another metric that draws cause for overall optimism.
The number of defaults has now fallen on an annual basis over ten of the last eleven months, including a fall of forty seven percent in April 2021. Admittedly, April 2020 did represent the first month when the full impacts of the COVID pandemic hit the economy.
Defaults fell by 47 per cent over the three months to April 2021, compared to the same period last year. The sting is that defaults increased by eighteen per cent in the April 2021 'quarter' compared to the three months to January 2021. This continues the trend of mixed results for defaults overall and the June 2021 quarter, rather than the first month, will provide the initial key post JobKeeper update.