Meet Arun Baghel, Engineering Team Lead, NSW
What do you do at CreditorWatch and why do you love it?
My current role at CreditorWatch is Engineering Team Lead/Manager. There is never a dull day in this role with new challenges and opportunities popping up every day!
What does your average workday look like?
My average workday has changed since COVID.
When I'm working from home, my day starts with brewing a fresh cup of coffee and then logging in to catch up on the news around the globe. When I'm not WFH, I spend my commuting time on reading the news and some random browsing.
At around 9am, I log into work and start going through my emails and messages which need actioning. Our daily team stand up starts at 9.30am.
My lunch hour is usually the 'relax and recharge' hour with a nice stroll across the wharf and the city when not working from home. Otherwise it's just lunch 🌮
I like to wrap up my workday by noting down the main task for the next day.
Sometimes my workdays also look like this…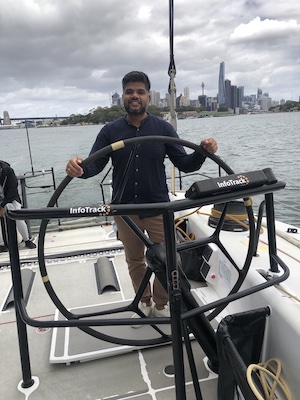 Your role probably exists at other companies. What makes CreditorWatch special?
This has to be the amazing team I work with. I truly believe that in any organisation it's the people who make the difference.
What is the biggest career lesson you've learnt so far?
Don't be afraid to try out new things and trust the people you work with.
What's been your biggest achievement in your role?
I'll go back to my previous answer, the people. The team at CreditorWatch is one of the best, if not the best, in Sydney. And I'm really proud to say that I played a small part in building that team from scratch.
What's something you've always wanted to try but never have?
Skydiving!
If you could only eat one food for the rest of your life, what would you eat?
🍕🍕🍕🍕🍕🍕
What do your parents think you do?
Fix computers, lol. Nah, they think I build websites.
What three apps do you use the most?
WhatsApp, the browser and Medium/Reddit
What was your first ever job?
I had a short stint as a teacher at a uni. It was volunteering work, so not a job as such. But learned a few things myself.