Business Risk Review August 2020
Have you got chills? The zombies are multiplying.
CreditorWatch Business Risk Review data for August demonstrates the biggest rise in zombie companies since the government's temporary insolvency measures were introduced.
The federal government has extended the temporary insolvency measures, originally due to end on September 24, to December 31 2020. This is despite CreditorWatch, alongside AICM and ARITA, lobbying for these measures to end because of the risk it puts on creditors who are essentially trading with insolvent businesses.
CreditorWatch CEO Patrick Coghlan says:
"By extending the moratorium to December, the government is wasting taxpayer money by kicking the can down the road. It means that solvent businesses are having to trade with otherwise insolvent debtors, risking their own health, whilst doomed businesses are able to put off paying creditors or even the ATO.

"In fact, some business sectors are performing well. The 'made in Australia' brand is flourishing and there are healthy companies out there. That's why this legislation needs to be eased off gradually running up to the December deadline. Otherwise, we could see an astonishing collapse come January."
The stats that matter – comparing August to July
External administrations fell by 37.1%. This isn't the good news story that it seems, as discussed in our whitepaper released on September 1.
Payment defaults fell by 8.3%. This is the third month in a row this year that defaults have fallen.
Credit enquiries on CreditorWatch grew by 7.5%. This is the fourth month in a row this year that enquires have risen.
Payment times increased by one day. The average amount of days payments were overdue in August 2020 was 291% higher than August 2019.
External administrations – state analysis
External administrations fell 37.1% compared to last month, from 537 to 338 across Australia. This is 59% lower than the average for 2019. Zombie companies will continue to hide in the woodwork now that the temporary insolvency legislation has been extended.
Victoria showed the greatest growth of zombies as they struggle through their second lockdown. There has been a 49.3% decrease in external administrations month-on-month.
NSW suffered a 34.3% decrease in external administrations in August. This is a considerate increase from the 8.8% decrease reported in July.
Queensland reported a 25.4% decrease in external administrations this month; a 13.4% decrease from July.
Of the remaining states:
Western Australia showed a 19.4 percent decrease in administrations from July to August
South Australia showed a 5.6 percent decrease in administrations from July to August, following a 43.8 percent drop from June to July
NT, Tasmania and ACT had figures too small to draw conclusions from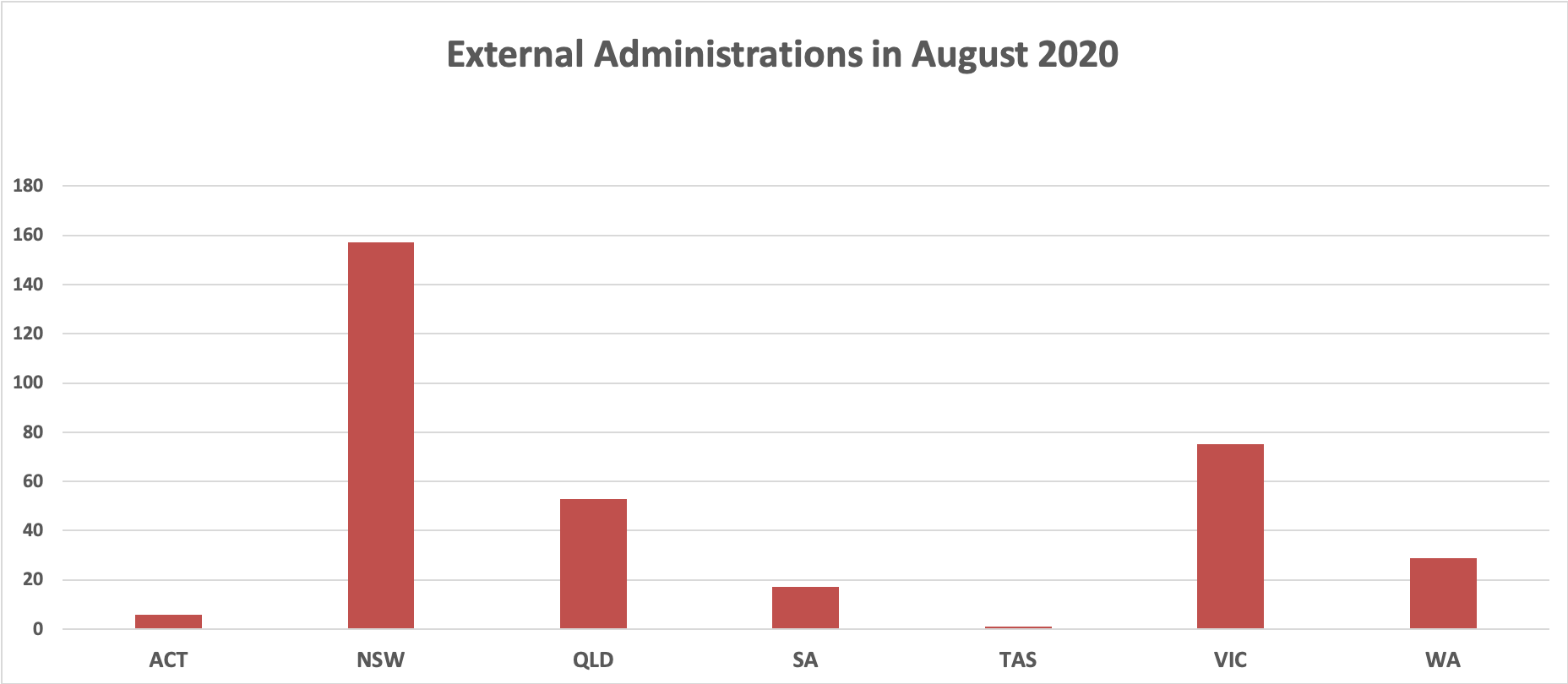 Who were the slowest industries to pay their bills?
CreditorWatch trade payment data is an accurate snapshot of the current state of the economy.
The Transport, Postal and Warehousing industry has quickly cemented itself as the most impacted industry to pay in 2020. The sector paid their bills an average of 90 days late in August 2020 – a 500% increase compared to August 2019.
Financial and Insurance Services reported an 11 day increase in days to payment from July to August, and an eye-watering 657.1% increase compared to this time last year.
Some industries, like Electricity, Gas, Water and Waste Services, have shaved a few days off their average from last month, but when compared to 2019, the majority have taken a beating. For all industries except Mining, the pressure on cash flow and their ability to pay bills has skyrocketed year-on-year.

Most impacted industries
| | | | |
| --- | --- | --- | --- |
| Industry | Days overdue in August 2020 | Change vs August 2019 | Change vs July 2020 |
| Transport, postal and warehousing | 90 | 500.% | 0 days |
| Administrative and Support Services | 90 | 542.9% | +4 days |
| Rental, Hiring and Real Estate Services | 59 | 391.7% | -3 days |
*Note does not include 'other industries' which was the third most impacted category
Best performing industries
| | | | |
| --- | --- | --- | --- |
| Industry | Days overdue in August 2020 | Change vs August 2019 | Change vs July 2020 |
| Mining | 7 | -12.5% | -1 day |
| Agriculture, Forestry and Fishing | 19 | 111.1% | -1 day |
| Electricity, Gas, Water and Waste Services | 26 | 188.9% | -6 days |
Harley Dale's thoughts, CreditorWatch Chief Economist
Harley Dale says:
"CreditorWatch's monthly Small Business Risk Review paints a stark picture of Australia's economic landscape. With payment times staying stubbornly high, it's clear that the SME sector is struggling to generate cash flow outside of government support, indicating that there is a mountain of trouble behind the curtain of stability. It sounds harsh, but these businesses need to be allowed to fail so that government focus can be aimed at companies that can stand on their own two feet.

"This is a much bigger cog in the wheel of Australia's economy than policymakers realise. Winding back Safe Harbour measures, whilst ensuring borderline companies receive the assistance required from restructuring bodies, is crucial to ensuring Australia passes through the next 'economic gate' without taking a massive blow at the beginning of 2021."
All data accurate as of 7th September 2020. ASIC data is subject to change.