Learn more about Lending Insights – an innovative credit risk solution for Australia's lenders
A first in the industry, CreditorWatch has launched Lending Insights to give visibility to finance businesses and lenders over borrowers who are loan stacking.
Due to the government's tightened regulations around bank loans, the process has become notoriously difficult, intrusive and time-consuming. Alternative lenders with quicker approval processes have become the go-to, replacing banks as the more attractive lending solution. Businesses are increasingly moving towards these smaller financial institutions and online lending services to get financial loans.
However, there is an underlying threat to these lenders, most of which have no visibility or control over – loan stacking.
Loan stacking – the invisible threat to lenders
Loan stacking occurs when a borrower simultaneously takes out multiple loans from different lenders.
A business with stacked loans is risky for lenders. The more loans it takes out, the less likely it will be able to pay them all back. It often leads to more debt than the business can handle and increases the risk of default. It could also violate lending terms. In some cases, there is malicious intent or fraud, with the borrower having no intention of repaying stacked loans.
Currently, when evaluating a loan, lenders lack visibility across all the ongoing loans a business has. A business could have multiple bank accounts, each paying a different loan, and only provide bank statement data from one of their accounts. This means when a lender looks at the borrower's bank statements, they may not be seeing existing loan repayments from their undisclosed accounts.
CreditorWatch Lending Insights helps lenders mitigate the risk of loan stacking
CreditorWatch works with many SME lenders. As a customer-centric credit bureau centred around innovation, we've built a tool to specifically address this recurring problem.
When lenders provide us with their loans data, we make loans data from other lenders available to them. This provides visibility around all the loans a business has, enabling lenders to make better decisions.
Lending Insights works like this:
CreditorWatch clients contribute initial data on all their current loans.
Clients contribute ongoing loan data via CSV or API integration.
Clients gain exclusive access to a new section in Risk Data called 'Loan Applications' which lists all our recorded loans for each business.
Clients receive email alerts for 'New Loan Applications' – if client has a loan with a business and another lender notifies us about another loan for the same business, we will alert them to it immediately.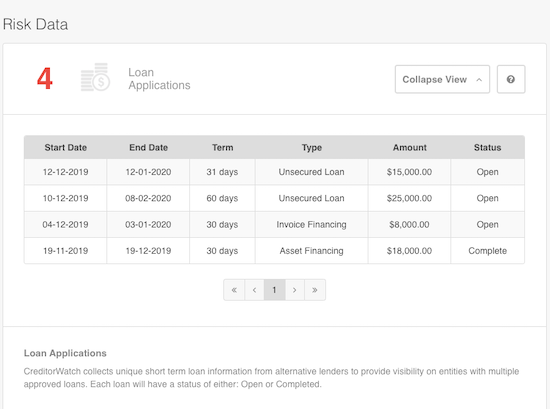 Lending Insights enables our customers to see what other loans a business has, helping them avoid borrowers with stacked loans. There is no extra charge for this feature and it is based entirely on the reciprocity of sharing loans data.
CreditorWatch is the first bureau to launch this feature and our unique data is not available anywhere else. Our customers are empowered with exclusive data and tools to mitigate financial loss and risks of loan stacking.
If you're interested in finding our more about Lending Insights or mitigating credit risk.