The second quarter of 2019 saw a continued increase in court actions for New South Wales, South Australia and Victoria.
Comparing this quarter with Quarter 2, 2018 really highlights the increase in court actions and judgments for those three states.
Since December 2018, NSW has seen a steady rise in court actions. However, the largest increase is in judgement amounts, which could indicate that larger cases are taking place. Judgement amounts have increased by 54% this quarter in comparison to 21% in Quarter 1, 2019.
South Australia is right up there with New South Wales. While it is also seeing steady increases in court actions, it's seeing the larger increases in judgement amounts with a 69% increase from last quarter.
While Victoria is still seeing increases in court actions and judgements, it is not seeing as significant increases as it did back in Quarter 4, 2018.
Queensland saw a large increase in court actions and judgements in Quarter 1, 2019. These have fallen slightly by 5% and 9% this quarter. Similarly, Western Australia has also seen a slight decrease in court actions and judgments this quarter.
Let's take a look at Quarter 2, 2018 in comparison to Quarter 2, 2019: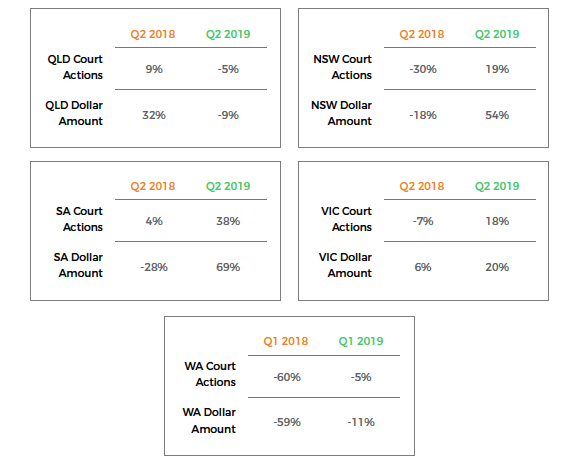 So, what's going on?
The recent Xero Small Business Insights report for June 2019 showed that the lag time between big business paying small businesses is having serious consequences. In fact, they are paying $115 billion late each year, where if the invoices were paid on time, $7 billion would be back in the economy. The report found that 53% of invoices were being paid late, and payments were an average of 23 days late. Xero also shows that only 52.23% of Australian small businesses were cash flow positive in April 2019.
Late payments and poor cash flow due to big business paying late could be causing the spike in court actions and judgements.
And how are industries performing? CreditorWatch looked into our industry data over that last 12 months and found that construction is performing the worst out of all of the industries across the nation. New South Wales is leading by 33%. Victoria comes in second. In a quarterly year on year (YOY%) comparison, South Australia has increased by 68%. To find out more, download the Annual Industry Insights infographic.
A report by CommSec 'State of States', showed that NSW is improving in retail but it is struggling with housing finance; Victoria is up in the job market but it is down on equipment spending; and South Australia is facing a slow economy due to a weak job market, lack of population growth and lack of economic growth. While the government is providing some support, we could see slow economic growth in South Australia until 2021.
A recent report commissioned by Mortgage Choice and undertaken by Core Data, showed that over 50% of Australians are struggling financially. It really isn't that hard to believe when we look at the cost of living pressures being felt around Australia, in particular New South Wales and Victoria. Considering that most of the Australian economy is made up of small business, it's easy to see how business owners may be feeling the stress within their business and personal lives.
New South Wales, Victoria and South Australia could also be struggling due to the ongoing drought. Many farmers, dairy farmers and agriculture industries are just surviving. A report by the Australian Bureau of Agricultural and Resource Economics and Sciences found that 75% of dairy farmers were expected to receive a lower income in the 2018-2019 financial year, in comparison to the previous year. Their incomes fell by more $67000 on average. The values of all that is farmed in Australia fell to $58 billion from $63.8 billion two years ago.
Not all doom and gloom
The Small Business Risk Review for Quarter 2, 2019 also shows some good news. Bankruptcies across the nation are decreasing and have fallen by 17% this quarter. Insolvencies have decreased by 21% in comparison to last year. However, they increased by 13% in comparison to last quarter. Payment default values have decreased by 7% in comparison to last quarter.
Take aways
As always, the best thing you can do from a credit management perspective is to have awareness of what's going on around Australia. Just because some States have seen reductions in court actions and judgement amounts, does not mean that there is less of a need for due diligence. As for the States that appear to be doing it tough the past few quarters, it is important to look at your due diligence practices, use CreditorWatch's monitoring and alerts feature as well as debt collection tools, and have a plan in place if things go south. The insolvency and bankruptcy statistics are positive for now, but the increase in court actions could suggest that may change in the coming quarters.
To learn more about the Small Business Risk Review for Quarter 2, 2019, watch the webinar and download the infographic.
More articles like this: Small Business Risk Review Q1 2019: A Call for Due Diligence