Closing deals with Danny O'Neill
I asked Danny O'Neill, CreditorWatch National Sales Manager, for his expert insights on how B2B sales has changed during COVID-19. He discusses pivots in sales strategies, team engagement, client retention, innovative industries, cash flow and the importance of taking risks.
How has COVID-19 changed your B2B sales strategy?
In terms of client acquisition, we were still calling qualified leads but had to pivot when various states entered lockdown. For instance, when Victoria was in lockdown and companies stopped doing business, we shifted our target market to WA and SA.
At CreditorWatch, every sale is preceded by a meeting and demonstration. Being unable to do this in person was challenging; nothing can replicate a handshake or the intimacy of a face-to-face conversation.
So, we've been implementing some tips to maintain the human touch in video conferencing. For instance, positioning the screen at eye level and looking directly into the camera to mimic real-life eye contact. Also, pausing and listening, ensuring we don't talk over each other and giving everyone the opportunity to speak.
Overall, our identification of prospects mainly stayed the same, what changed the most was how we interacted.
How did you adapt in terms of managing your sales team?
As a sales team, we bounce off each other. So, working in solitude, pitching to new clients and trying to close deals, without any feedback can be quite tough.
We made an effort to set up different touch points to keep our team engaged and focused. We had daily Zoom huddles filled with banter, dress up days, cheese tastings and various weird and wonderful activities which kept our spirits up.
What challenges have businesses been having and how have you tried to accommodate these?
Cash flow has been the biggest challenge. For many industries, business stopped completely.
We tried to help these businesses by extending credit terms and temporarily pausing subscriptions. In some cases, we waived subscription costs enabling them to come back stronger. Our customers really appreciated how responsive we were to their needs.
What industries have you seen display the most innovation?
The entertainment industry and food services have been quite creative. For example, our team had a virtual cheese tasting event where cheese was delivered to everyone's house. Some restaurants have also started delivering three or four-course meals to people's homes.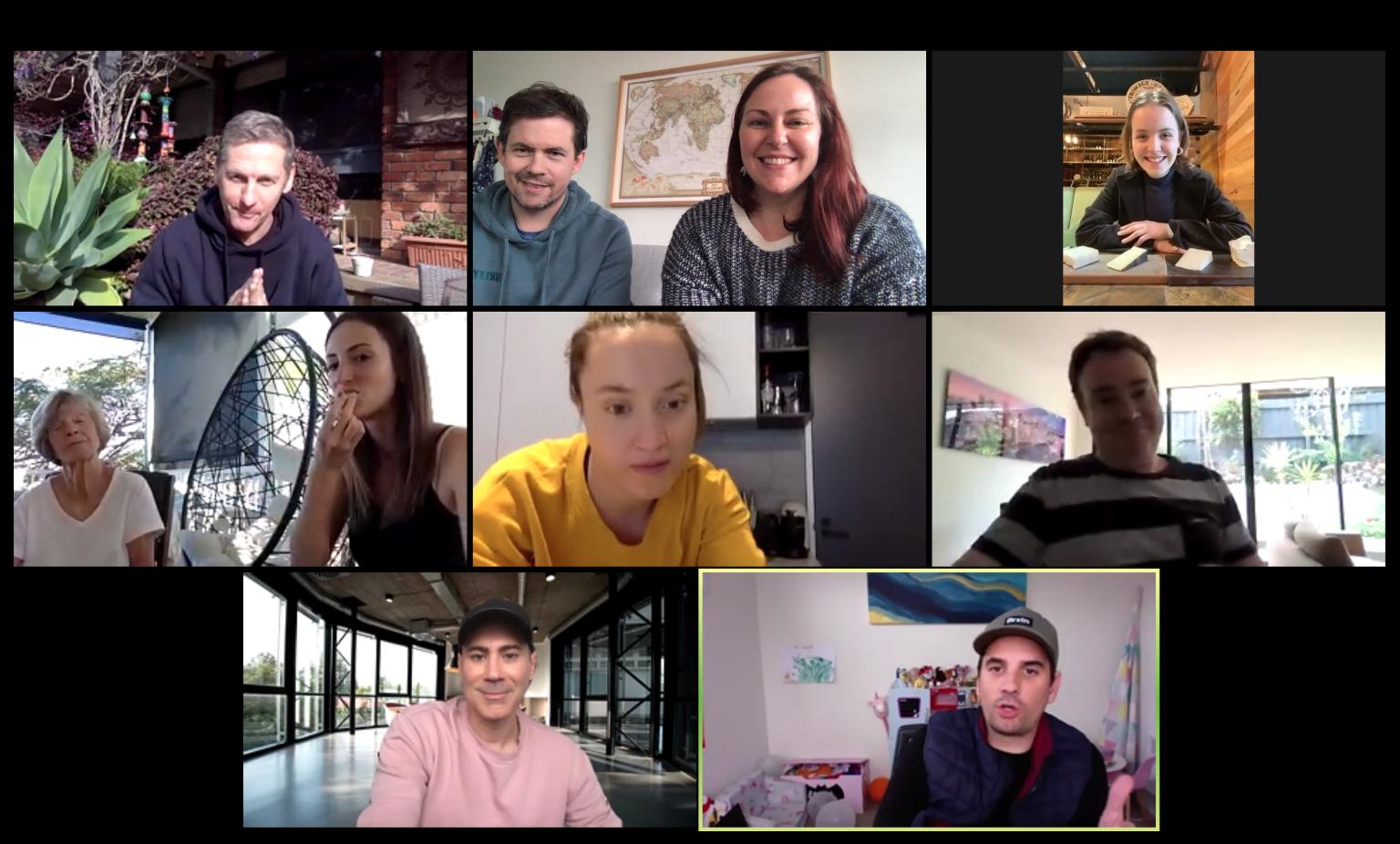 The CreditorWatch Melbourne team enjoying a cheese tasting experience via Zoom
Have you seen any positives from COVID-19 for businesses?
Absolutely.
A lot of us started questioning the way we did business and our work-life balance. While working from home, we've been able to spend more time with our families and avoid long commutes. We've realised we don't have to be in the office five days a week.
We've also progressed in terms of trust. When you can't see your staff or how they spend their time, you have to take a big step and really trust them. The fact that my team responded positively and stepped up was wonderful.
I've also noticed we're having more honest conversations as we're all going through the same thing.
What tips can you give small businesses to give their cash flow a boost?
There's no magic bullet. The key is to get the cash in early. This means looking at collections, who you give credit to, understanding customers' payments history and how they pay other people.
SMEs often spend more time focusing on sale rather than at the back-end collecting the cash. At the end of the day, you're acting as a bank by extending credit, so you have to be at the top of your game.
What can businesses do to regain their confidence in 2021?
Business has always been about taking risks and adapting to the changing landscape.
Remember that there have also been many successful companies during this period – just look at the acceleration of logistics and online businesses.
There are many opportunities for businesses right now. Ultimately, business is still about being brave while mitigating and managing risks.
Learn more about improving cash flow
---
Danny O'Neill
Danny began his CreditorWatch career as the Victorian Sales Manager in 2018 before being appointed National Sales Manager 2.5 years later. He is responsible for leading all CreditorWatch sales teams and their managers, including BDMs, account managers and senior consultants.
Danny has a strong track record of exceeding his sales targets and coaching his teams to success. He is particularly passionate about credit decisioning, data analytics and working on his professional self-development. You can connect with Danny via LinkedIn.